Connection Options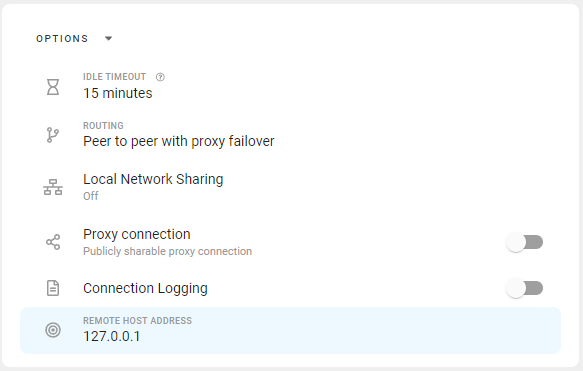 Connections must be stopped in order to edit the following settings.
Idle Timeout - how long to wait after there are no active tunnels before terminating the connection. This can help reduce data charges if your Devices are on a cellular internet connection. Set to "0" to never terminate.
Routing - what type of connection to make

Peer to peer with proxy failover - try a peer to peer connection first, then try a proxy connection if that fails.
Peer to peer only - only attempt a peer to peer connection.
Proxy Only - only attempt a proxy connection.
Public proxy - creates a shareable address that is valid for 8 hours.

Local Network Sharing - see LAN Sharing
Proxy Connection - select this if you wish to share the Connection with another person. This overrides the "Routing" setting. If you select this, you next need to select the "Security" mode:

IP Latching - the proxy connection will latch to the first IP address that connects after the proxy is created, blocking all others.
None - the proxy connection will allow incoming connections from any IP address.

Connection Logging - enable if needed in order to debug connections.
If connection logging is enabled, a button will appear called "Show Logs".

Click on "Show Logs" to open Explorer windows showing the log file locations. These can be copied to a support ticket if requested.