On the Settings page, you can sign out, quit, send feedback, and more. Click on the "More" button in the left panel, then "Settings" in the center panel.


Configuring remoteit Services on the local Device
See: Set up a new device
General Settings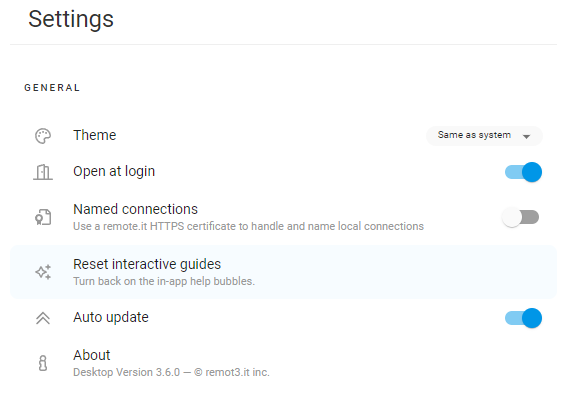 Theme - you can set this to the following values: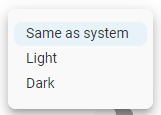 Open at Login opens the Desktop App when you log in. Note that Hosted Services and active Connections will keep running whether the Desktop App is open or not.
Named connections - enable this to allow yourself to provide a user-readable name for the local connection hostname. If this option is not set, then hostname for connections will generally be 127.0.0.1. In addition, if you are using HTTPS connection types, set this option to cut down on certificate warnings.
Reset Interactive Guides - certain screens have pop-up help panels (Interactive Guides) to explain what they do. When you close one of these by clicking on the "X" in the upper right corner, that guide will no longer be shown. In order to re-enable the display of all such Interactive Guides, click on this button.
Auto-update automatically updates the application in the event a new version is available.

About shows you the current version of the App. If there is an update available, you will see:

Advanced Settings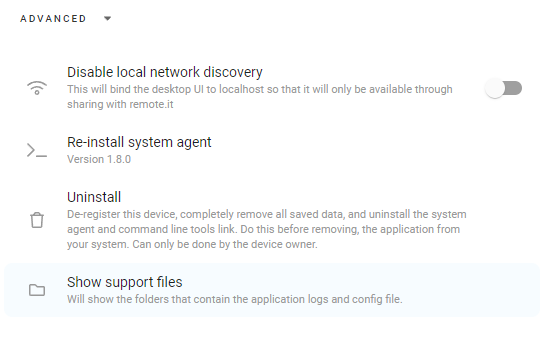 Disable local network discovery - when local network discovery is enabled, the remoteit service (which runs even when the Desktop application is not open) allows connection to any Service using the PC's IP address and the connection port.

For example, suppose that you have a connection to a remote Device's SSH Service on port 30002 on your PC.

Your PC's IP address is 192.168.0.207

If local network discovery is enabled, meaning that "Disable local network discovery is NOT enabled, then other devices on the network will be able to access the remote Device's SSH Service using 192.168.0.207:30002.

Disabling local network discovery will disable access to these connections on the LAN, meaning you'll only be able to access the Settings using the Desktop application itself. Most users should leave this disabled.

Re-install system agent- reinstalls the utilities used by the Desktop App. Support might suggest that you this in the event there is any problem with your connection.
Uninstall - unregisters any Network Services, then removes all of the locally installed command line software.

Show support files - opens the folders where log and configuration files are kept. This makes it easier to supply information to remoteit support if needed.