You can initiate and manage Connections to your remoteit Services using the "Network" view. Initiating a remote.it Connection adds that Device to your Network, allowing you to access it.

Local Network - shows existing active Connections. Click on a Connection in the center panel to see its status and details in the right panel.

Others - shows Connections to Services in your account made by other accounts (to shared Services) as well as peer to peer Connections from one Device to a Service on another Device.

Recent - Connections which were made recently but aren't currently active are shown here, for ease of reconnecting.
When you first start the Desktop application, the Network's central Connections pane will be blank.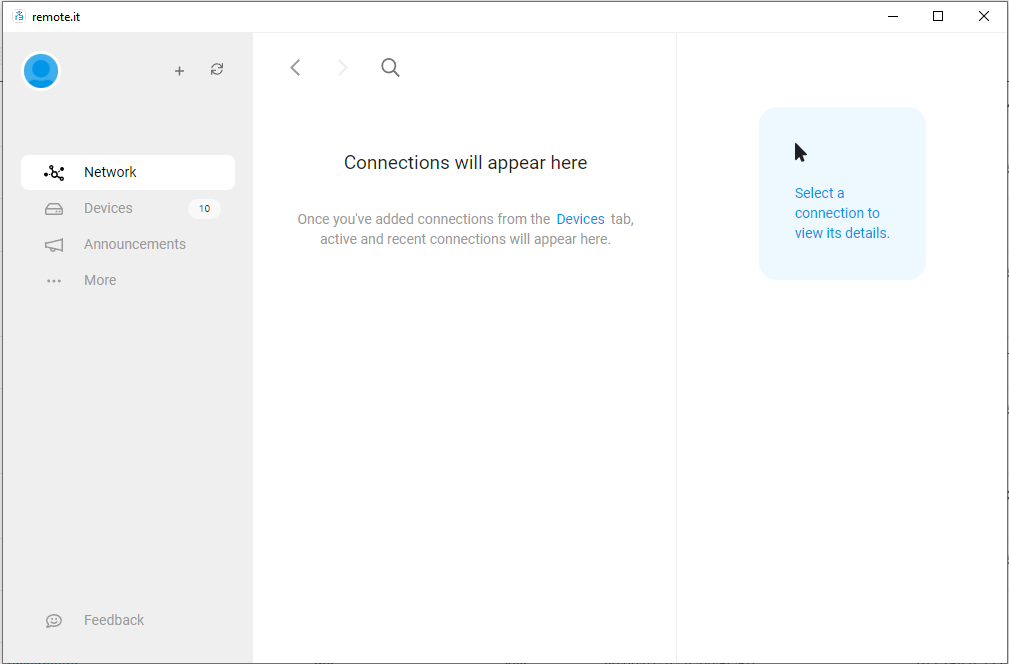 After you add Connections from the Devices View, they will appear as shown below: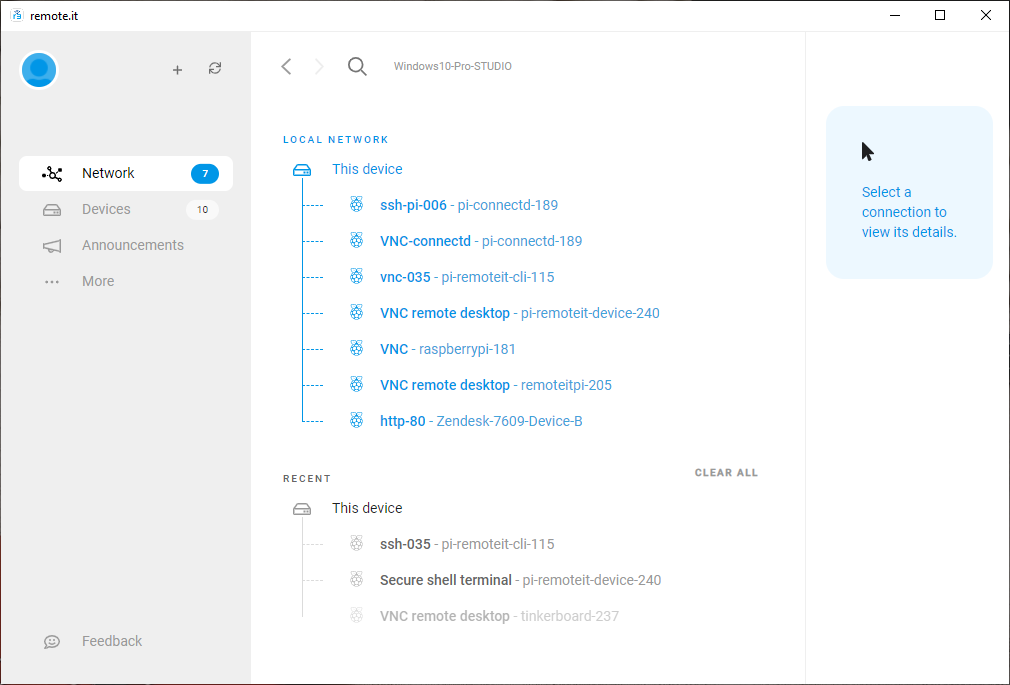 Closing an existing Connection (Remove from Network)
Click on the Connection to select it, then click on "Remove from Network" in the right hand pane: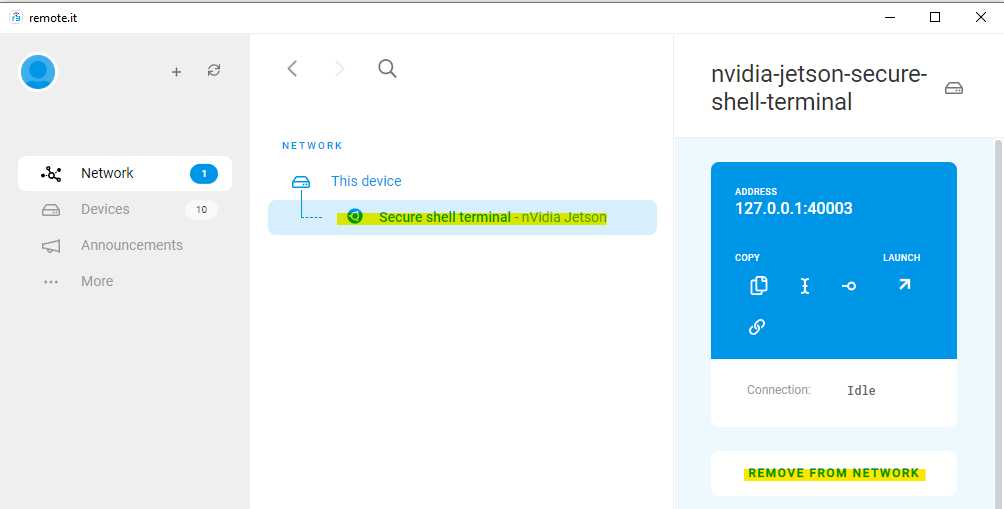 Re-opening a recent connection
Select the Connect from the list of Recent Connections, then click on "Add to Network" in the right hand pane:

Clearing all Recent Connections
Select "Clear All" on the Recent Connections list:

Connection Configuration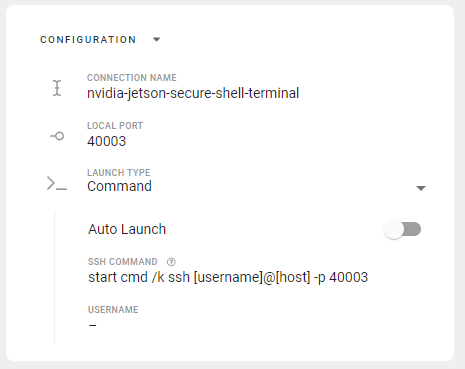 Connection Name - the hostname of this Connection that will be used if HTTPS certificate mode is enabled.
Local Port - the portal that will be used with localhost (127.0.0.1) in your client application.
Launch Type - URL or Command
Auto Launch
Command - show the command that will be executed. Some information may be specific to the Application type (e.g. SSH or VNC). There are placeholders for the following information:
[host] - the host name or value (most often 127.0.0.1) to pass to the command line
[port] - the port value to pass to the command line. This will get assigned automatically when you first add the Connection to the Network. Most of the time, you do not have to enter anything here unless you wish to use a specific port when making the connection. Note that auto-assigned ports will increment by one for each new Connection that does not already have a port assigned.
[username] - the application username to pass to the command line. In the case of an SSH Connection, this is the SSH username. On a Raspberry Pi, this is "pi" by default.
Connection Options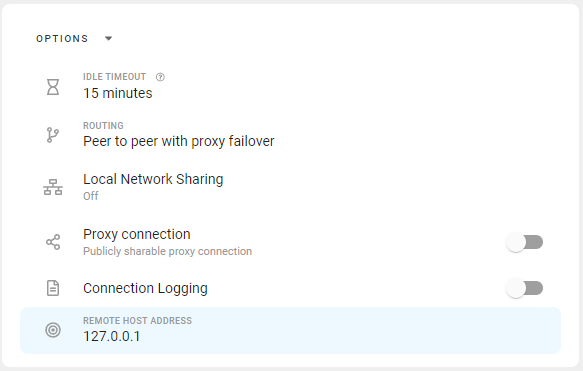 Connections must be stopped in order to edit the following settings.
Idle Timeout - how long to wait after there are no active tunnels before terminating the connection. This can help reduce data charges if your Devices are on a cellular internet connection. Set to "0" to never terminate.
Routing - what type of connection to make

Proxy Only - only attempt a proxy connection.
Peer to peer only - only attempt a peer to peer connection.
Peer to peer with proxy failover - try a peer to peer connection first, then try a proxy connection if that fails.

Local Network Sharing - see LAN Sharing
Proxy Connection - select this if you wish to share the Connection with another person. This overrides the "Routing" setting. If you select this, you next need to select the "Security" mode:

IP Latching - the proxy connection will latch to the first IP address that connects after the proxy is created, blocking all others.
None - the proxy connection will allow incoming connections from any IP address.

Connection Logging - enable if needed in order to debug connections.
If connection logging is enabled, a button will appear called "Show Logs".

Click on "Show Logs" to open Explorer windows showing the log file locations. These can be copied to a support ticket if requested.