Connect to your Device
In this example we will be using the GL-iNet GL-MT300N-V2 mini router. The procedure should be similar for other OpenWrt based devices as well.
Connect the router's WAN port to an active internet connection using a CAT-5 cable. The internet connection can either be the RJ-45 jack on your cable modem, or a LAN port on your existing router, if you happen to be using a different router already.
Connect your PC to the MT-300's ethernet LAN port, or connect wirelessly.
By default, the IP address of the router as seen from its LAN is 192.168.8.1.
SSH to the router's console using its username and password. By default, these are root and password, respectively.
ssh -l root 192.168.8.1
Installing remoteit
At the console, run the following commands:
wget https://downloads.remote.it/openwrt/latest/remoteit.ipk
opkg update
opkg install ./remoteit.ipk

Claim code
When the remoteit installer completes, it will display a short alphanumeric Claim Code that you will need to enter into the Desktop application.
Sample output is shown below.

Info
Take note of the Claim Code (TL3B46NC in this example), which you will need to copy to the remoteit Desktop application to complete registration of this Device.
Enter the Claim Code to Add your Device to your remote.it Account

After installing the remoteit Desktop, open the application and log into your account.
Make sure you are on the "Devices" tab, then click on the "+" in the upper right corner of the left panel:

A dialog will appear where you should paste the registration (claim) code which you copied at the end of the previous step.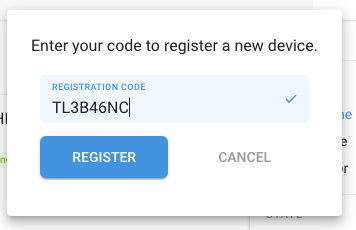 Once you have entered the registration code, click on the blue "Register" button. After 5 to 10 seconds, you should see a notification that registration succeeded and you should see the new Device in your list of online Devices.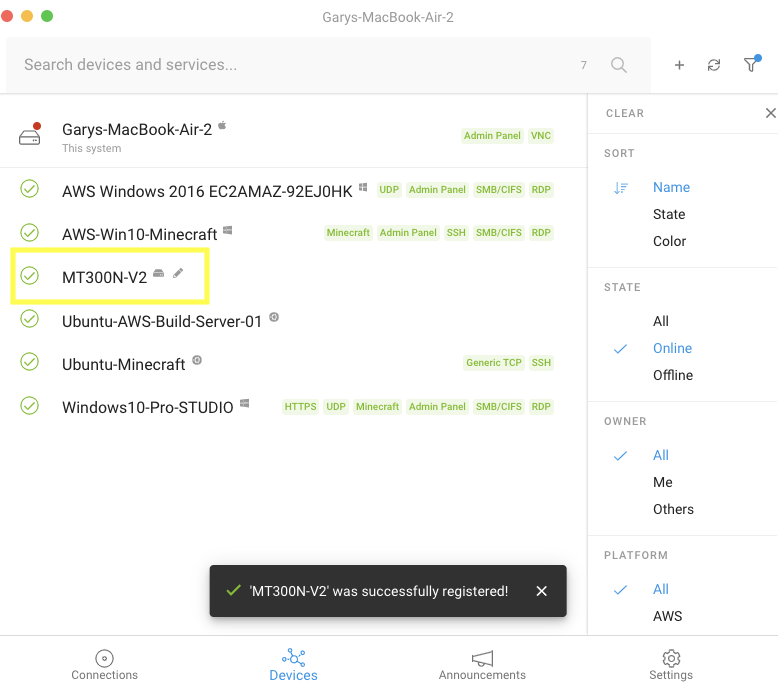 Click on the pencil icon to the right of the new Device name. Notice that as you hover the mouse cursor over this icon, the tool tip "CloudShift Configurable" appears.
Trouble downloading the installation package?
In case of problems with installation
Support
remoteit for OpenWrt is in beta test at this time. Please report any problems with the procedure above to support@remote.it. Please send us any error messages along with the output of the following commands which you should run on the router's command line:
cat /etc/banner
cat /etc/openwrt_release
cat /proc/cpuinfo
Uninstalling remoteit
To uninstall remoteit, in the event you don't wish to use it any more, or to start over from scratch, run the following.
opkg remove remoteit
rm -rf /etc/remoteit /usr/share/remoteit
In the event you wish to download a new version of the remoteit.ipk file, be sure to remove the older one first, or else wget will fail.