Overview
Usually, establishing a remote connection between two devices requires the insecure opening of ports on your internet router. With remote.it, however, it's possible to remotely control a device quickly, securely, and without opening ports.
Before we begin, please make sure that you have a remote.it account. If you do not have an account, please make one here.
Additionally, download and install the remote.it Desktop Application on both computers. For information on how to do that, see this guide.
You must also install a VNC client on the Windows PC. In this tutorial, we will be using RealVNC Viewer. You can download RealVNC Viewer here.
Finally, please ensure that both computers are powered, awake, and connected to the internet.
Please follow the simple steps below to configure remote access:
Enable Screen Sharing (macOS)

Register the Device & Service (macOS)

Connect Remotely (Windows)
Enable Screen Sharing
In order to remotely access a macOS computer using remote.it, you must first enable Screen Sharing.
To do this, open "System Preferences" and click "Sharing".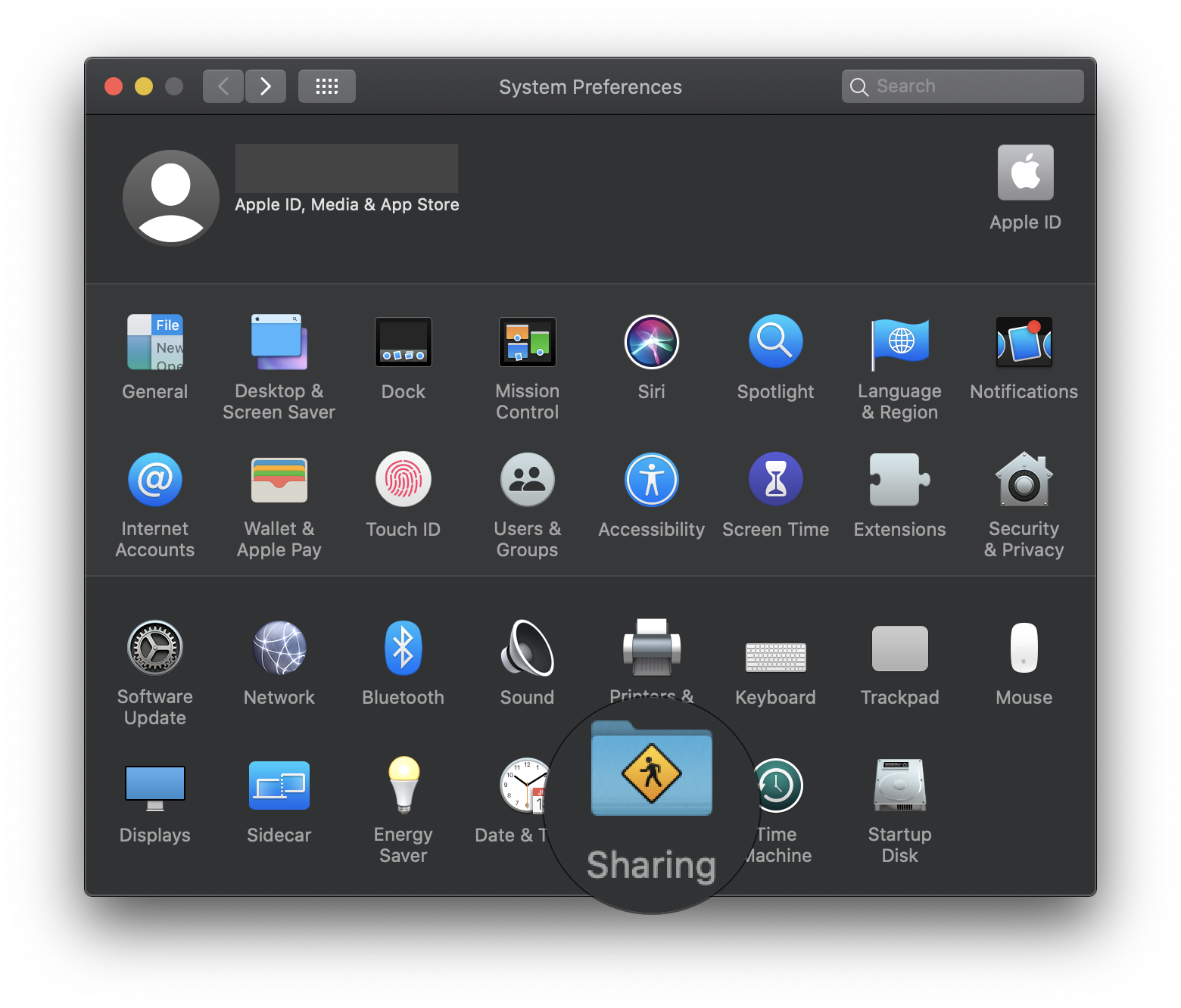 Check the box next to Screen Sharing. Screen Sharing will then be enabled and the icon will turn green.
Next to "Allow access for:", make sure that "All users" has been selected.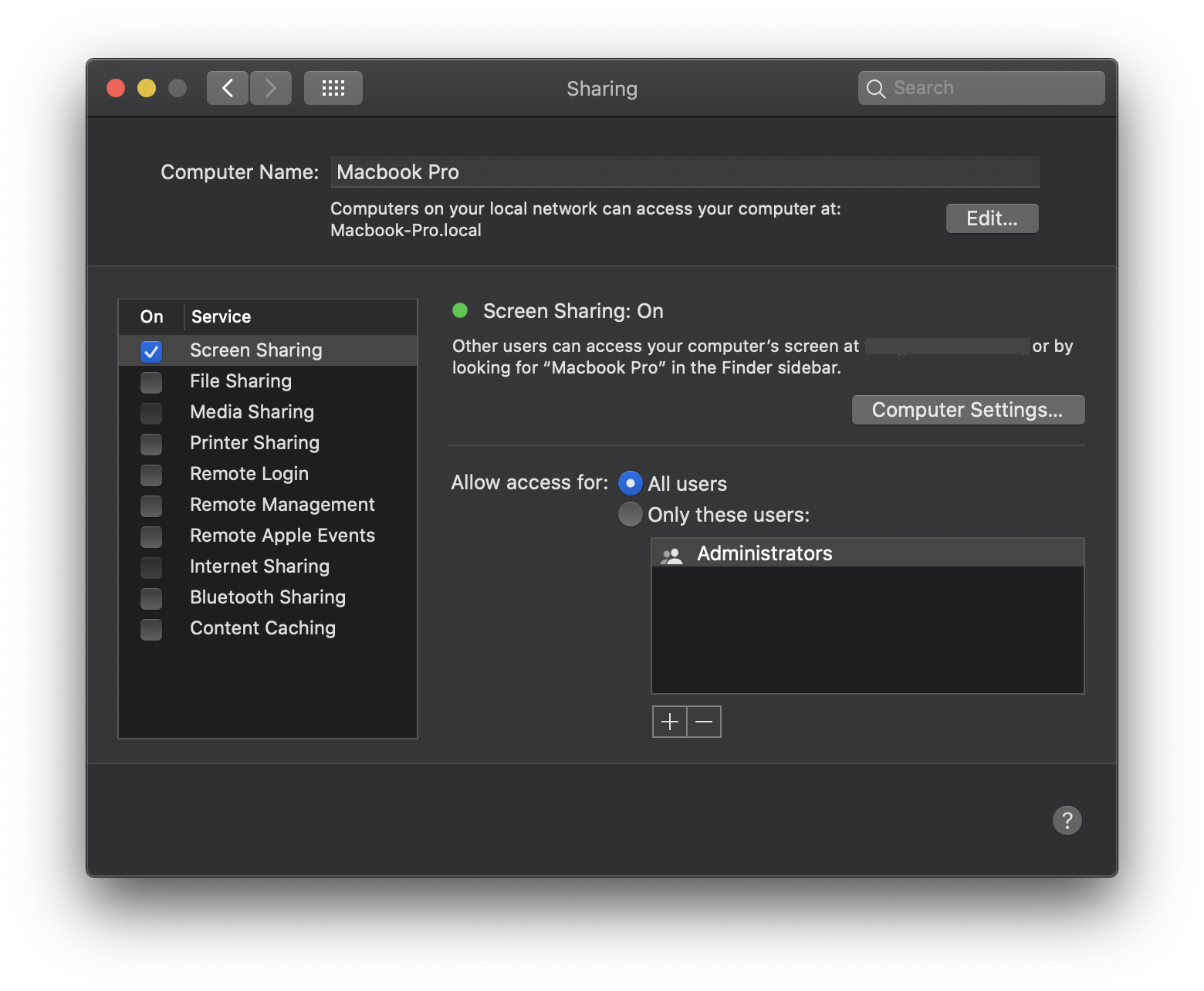 You should replicate the settings shown above.
Register the Device & Service
Open the remote.it Desktop App on the macOS computer that you would like to connect to remotely, and log in with your remote.it account. The Desktop App can be downloaded here:
The Settings tab will be open. Click on "Set up remote access".
Enter a Device name. Make sure it's something that you will remember, as this is how you will identify this Device in your remote.it account. The default Device name is the name you've chosen for your computer.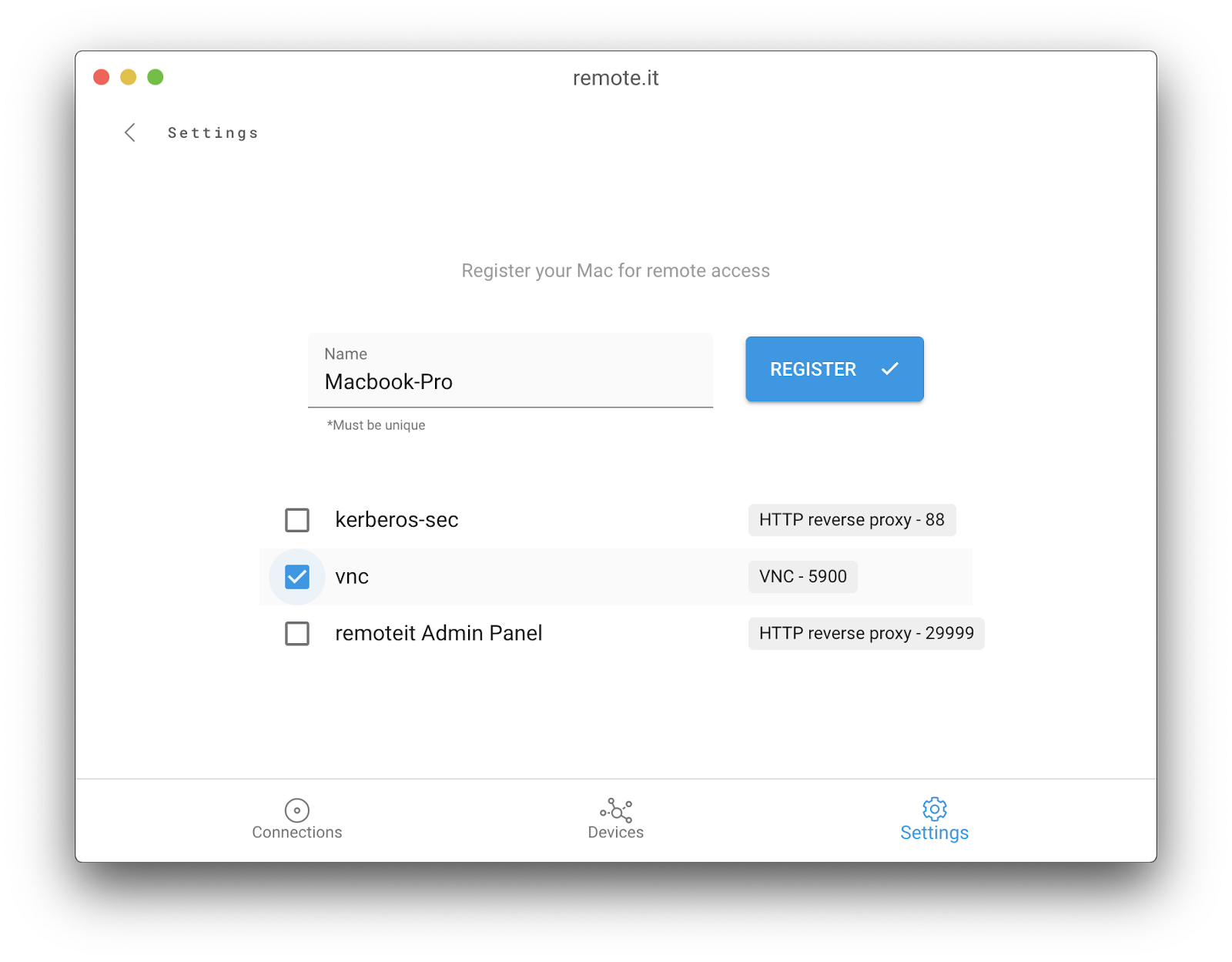 I've named my Device and made sure I have the VNC service selected.

You need to create a VNC Service on your macOS Device so that you can remotely connect to it using your Windows machine. The VNC service should appear below. Make sure it's checked.
Then, click "Register". You will be prompted to enter your Mac's administrator credentials. Enter them, then click "Ok".
Next, navigate to the Devices tab and refresh the page. The Device you registered will be displayed. If you click on it, you can see the VNC Service you just created.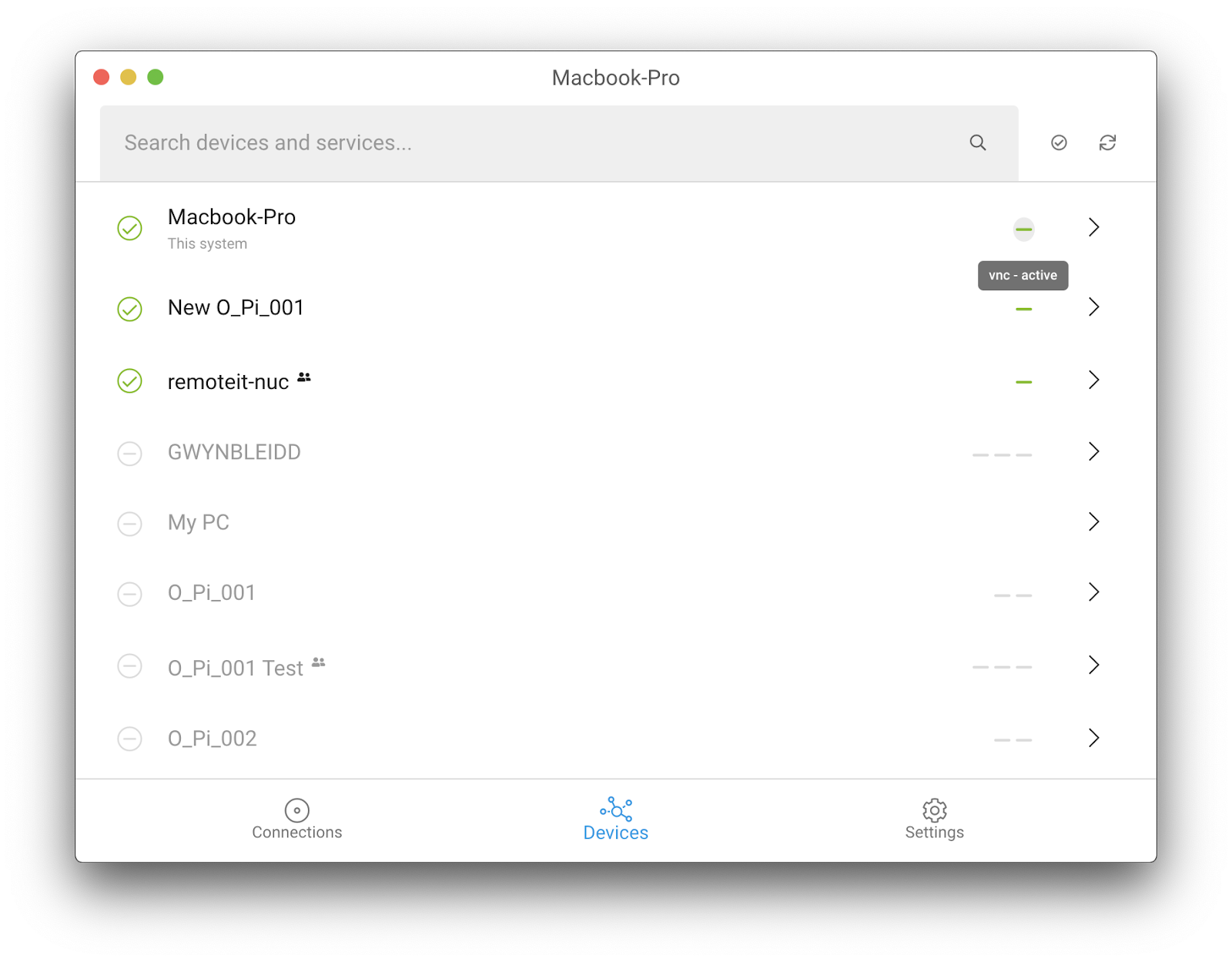 Note that registering your Device and adding this Service does not open this port to the internet, and will only be accessible from your remote.it account.
You're now ready to remotely connect to your macOS computer using your Windows machine.
Optional: Add Services Manually
If the VNC Service did not appear, or if you want to add a Service that did not appear, you can click "Add from Network" or "Add manually".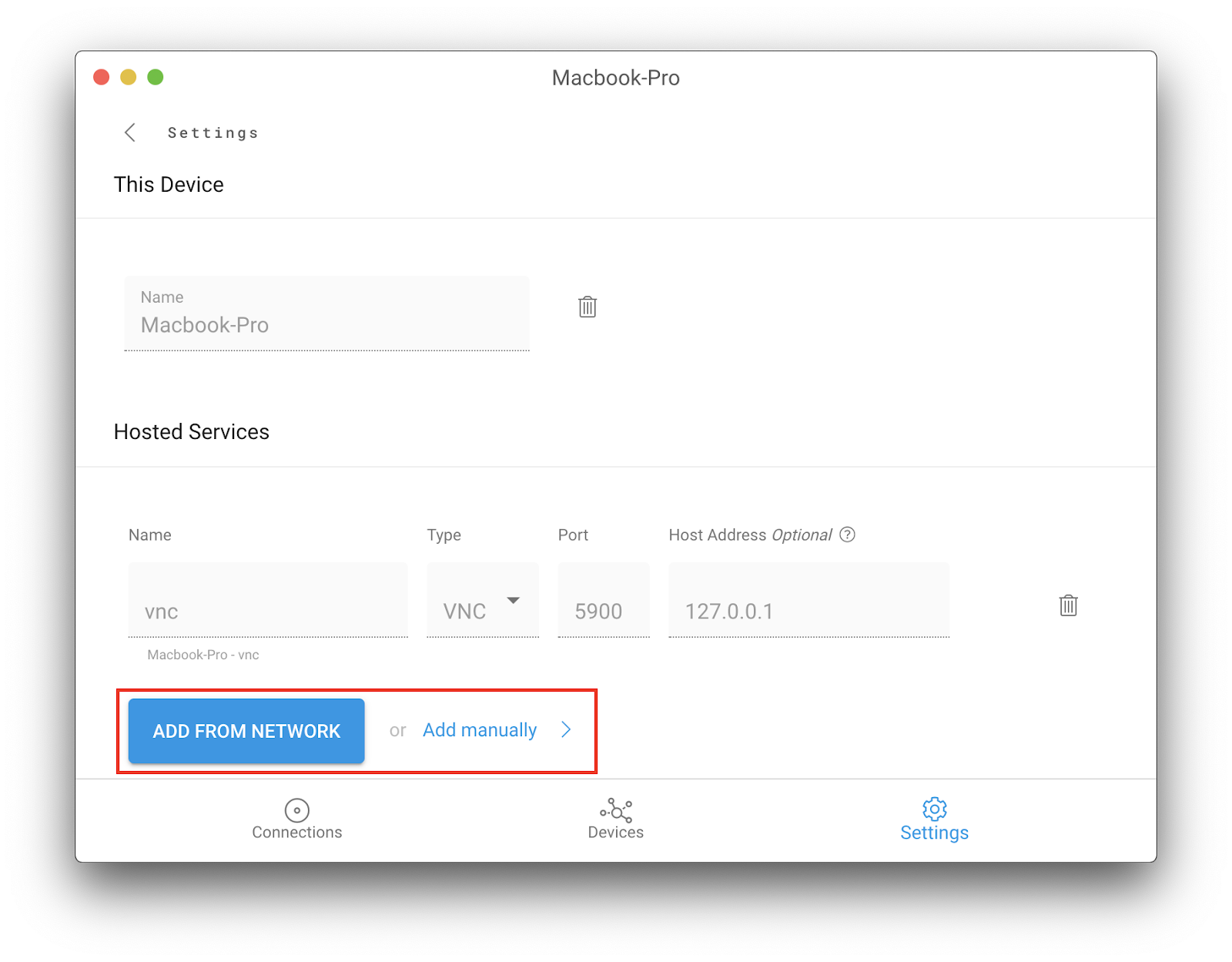 If you are adding a VNC Service manually, make sure that the information mirrors the image above.
Connect Remotely
Now, open the remote.it Desktop Application from the Windows machine that will be your controller. Make sure that you log in with the same remote.it credentials you used earlier.
After a few minutes, the target macOS Device will appear under the Devices tab. Click on it and you will see the Service you registered.
Click the green "Connect" button. Once connected, the button will turn blue. You will see a clipboard icon next to the Service name. Click the clipboard to copy the VNC string to your clipboard.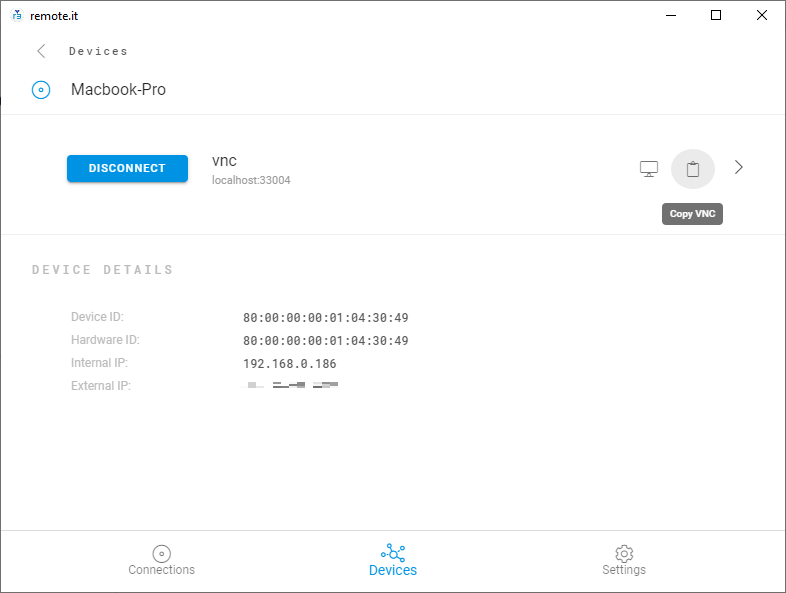 You can see the address underneath the Service name as well.

This is the address you will use to connect to your macOS Device. Open up the VNC client application you installed earlier. We use RealVNC's VNC Viewer. Paste the VNC string into the appropriate text field and hit enter.
VNC Viewer will ask for the username and password to the macOS Device. Enter the proper credentials and click "Ok".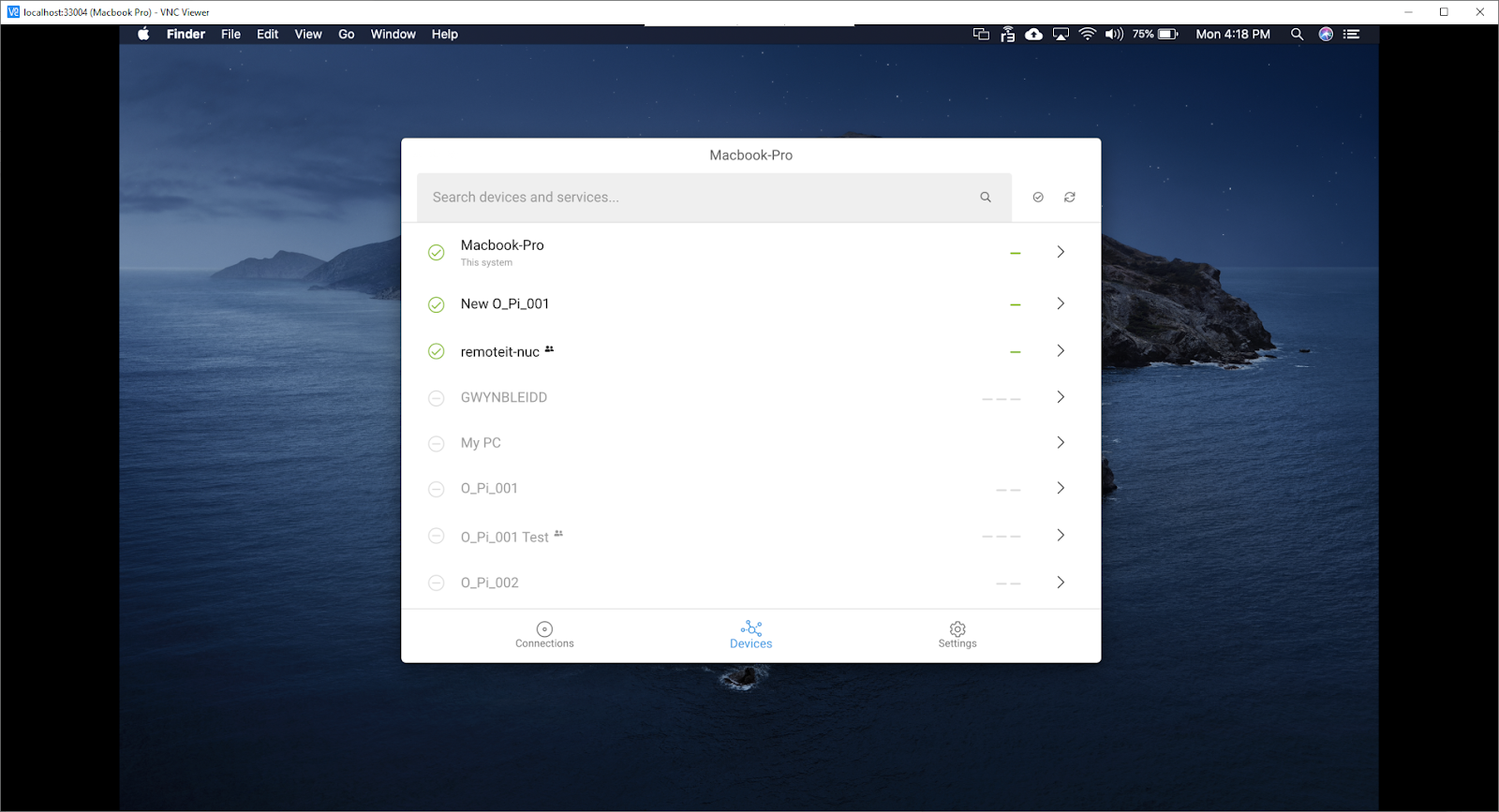 I can see my Macbook's screen and control it from anywhere!

You are now remotely connected to your macOS Device!