With the release of Desktop and Portal 3.14, Remote.It has improved some key areas to streamline installation and registration and improve the device/service configuration and connection screens. For complete release notes click here
Improved add device workflow
When clicking on + (Add Device) and selecting the platform you wish to setup, you can pre-define services you want to be added such as VNC/RDP, databases, Games and more. The services will register with the default ports for each service. You will need to ensure that the service is running on the device (i.e. the VNC Server or Game Server is running) and if you assigned a custom port, you will need to adjust that after registration.
You can also define the tags that should be added to the device when it registers. This is helpful for organizations which use custom roles to grant permissions based on tag(s) assigned to devices and filtering your device list based on tags.
See image below for example
We have also added support for more device platforms.
Updated Device Service Page
We have made some significant changes to the Device Service Pages to simplify configuration, connections and provide additional details on connection state.
NOTE: Options on routing configurations are limited in the web portal (app.remote.it) since it only can support proxy connections. If you would like to create connections from your computer which will be consistent from day to day, please install the Remote.It Desktop application. The desktop connections are not shareable, but they do allow bookmarking for a single user and will re-connect on demand as long as you do not quit the Desktop App or close the connection.
Service Page Breakdown
Connections
We wanted to give users more visibility when connecting to a Service. Introducing a connection graph which will show you the current state of the connection (when actively in use, the tunnel or cloud portion will be blue. We also added some further details about the connection state so you can have visibility of the different states of the connection and when you are unable to connect, what went wrong.
Advanced connection details and CLI logging can still be configured by clicking on the connection configuration. These connection configurations only will apply to your connection configurations in this Desktop or on the Web Portal. This is usually not needed, but you may need to make modifications for username, application launch type and the path to the client application. For further details on connection configuration, please refer to Connection Options
Service Set Up and Details
If you are the device owner or a manager for the device if part of an organization, you have had the ability to see Service details and edit the Service configuration (this includes connection defaults which will apply to all users who can connect to this service provided they have not overridden the configuration in the Connection configuration section). If you are looking for details such as Device online connectivity including Availability and Instability, click on the Device name in the center panel.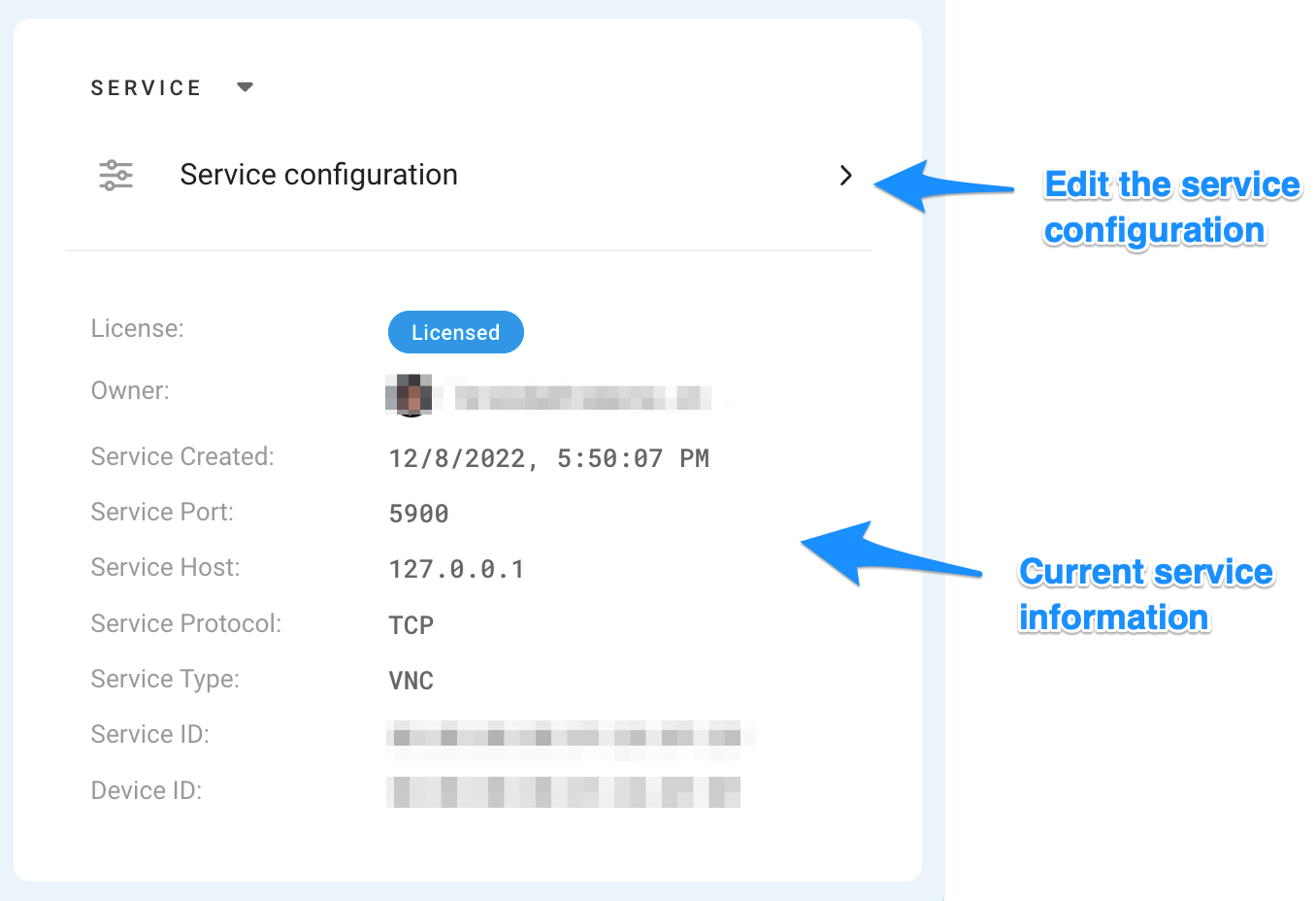 Networks
If you are a device owner or can manage the device in an Organization, the Networks section will display which Networks this service belongs and allow you to manage the Networks (add and remove). Click here to learn more about Networks
Access
f you are a device owner or can administer an Organization, the Access section displays the users with Organization and Guest Access. You can directly add guest access here. Otherwise, manage Organization User access in the Organization user management section. Learn more about access control here including Organizations and Guest Sharing.
Add Service Updates
We have simplified the add a new service form to streamline setup. Select your Service Type, then enter the correct details. You can also setup connection defaults for all users including routing, connection templates and username